EN BUSCA DEL SONIDO PERDIDO
When I Live by the Garden and the Sea, de Eluvium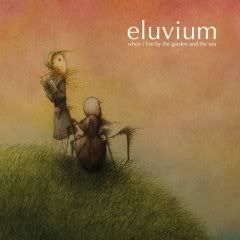 La metafísica de la bruma puede ser un camino cordial o puede ser una geología serena, casi invisible...
Matthew Cooper (verdadero nombre que se cobija con el alias musical de
Eluvium
) con tres discos:
Lambent Material
(2003),
An Accidental Memory In The Case Of Death
(2004),
Talk Amongst the Trees
(2005) ha forjado el sonido más ambicioso (y sencillo a la vez) en cuanto textura musical: su obra se asoma al hundimiento del alma serena de Arvo Pärt pasando por la austera elocuencia esencial/reveladora de Philip Glass y de Gavin Bryars hasta llegar a la fecundidad de Seafeel. En menos de cuatro años, Eluvium se ha consolidado como una de los músicos más precavidos y elegantes en el panorama estadounidense. Todas las portadas de sus discos tiene algo en común: hay una añoranza plástica por lugares de cobijo: como si la bruma fuera la única riqueza posible, la forma más estricta de mantenerse en el mundo. Los colores de sus portadas tienen un modo de ascención interior que responden a un abismo henchido de misterio para hacer posible otro tipo de calidez. Después de su bella obra del año pasado (
Talk Amongst the Trees
es un manifiesto de minimalismo sobrenatural) Eluvium ha dado a conocer un EP bajo el nombre de
When I Live by the Garden and the Sea
de menos de 25 minutos que late en cuatro hermosas melodías/infinitudes:
I Will Not Forget That I Have Forgotten, As I Drift Off, All the Sails, When I Live by the Garden and the Sea:
cuatro totalidades sonoras cuya raíz se compone de sensaciones elementales que construyen un breve cosmos que revela resplandor:
el track
inicial
I Will Not Forget That I Have Forgotten
se reduce a un piano que entraña la sensibilidad de Satie y la perpetua frontera serena de Harold Budd. Cuatro piezas elegantes que remontan a la calidez de la bruma y a los alcances de un piano tan sencillo como elocuente ( en la veta de Max Richter en
The Blue Notebooks
). Cuatro postulados de contemplación para impregnarse de un hermoso caudal luminoso.
...algunas veces, la bruma es un silencio sobrenatural...