DISCO NUEVO
Public Warning, Lady Sovereign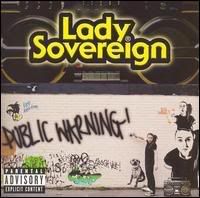 Public warning
Lady Sovereign
2006, Def Jam
Género: hip-hop
MAKE WAY FOR THE S-O-V!!!
Esta pequeña inglesa no tiene una mejor manera de anunciarse, su grito característico tiene toda la razón de serlo, a sus escasos 20 años y 1.55 cm. de estatura llega con todo después de emocionarnos (por lo menos a mi sí) con el EP Vertically Challenged el año pasado, realmente esperaba con ansias el escuchar las canciones que acompañarían a las fiesteras "random" "ch-ching" y "hoodie" y he de decir que realmente valió la pena la espera, las diez canciones restantes tienen la misma calidad y punch que los sencillos anteriores.
Algo característico de este disco (además de lo curioso que es escuchar rapear a una chica inglesa, todo un reto al oído) es el sentido del humor de Lady Sov que aplica casi en todos los tracks en los cuales deja claro que ella no tiene la mínima intención de convertirse en la siguiente Britney y que no cambiará su estilo por nada del mundo, además de burlarse de las mujeres que se esfuerzan en ser falsas para ser famosas:
You tried to be Christina so ya died ya hair black,
but really you looked like the Vicar of Dibley... wot?... on crack!!!
(...)
Bring out the detergent, scrub that oompa loompa it´s urgent,
have you seen her face? it´s disturbin´!
how much fake tan are ya squirtin´?
it´s hurtin´ my eyes it´s startin´ to look like a sunrise.
Tango
I'm fat I need a diet
Nah in fact I'm just too light
and I ain´t got the biggest breast-s-s
But I wrote all the best disses
I got hairy armpits
But I don't walk around like this
I wear a big baggy T-shirt
That hides that nasty shit
Love me or hate me
Además de burlarse de las mujeres chic, también toca el tema nacionalista en "My England" pero de una manera inusual, en donde reconoce y admira los defectos de su país natal, en "Those were the days" cuenta orgullosamente con un beat más calmado la historia de su infancia y todo lo que tuvo que pasar para llegar a ser la dama soberana (ja!) que es hoy, el último track es un remix de "Love me or hate me" con la mismísima Missy Elliott, altamente recomendable.
Louise Amanda Harman (créanlo o no, ese es su verdadero nombre) es la primera rapera no americana en ser firmada por Def Jam records y fue un gran acierto, porque además de tener la música tiene toda la actitud necesaria para sobrevivir en el mundo del hip-hop, y si eso se tiene a los 20 años sólo puede ponerse mejor después. A ella le sobra actitud y una vez teniendo eso, todo lo demás fluye, y con Lady Sovereign todo fluye en una armonía de rimas en la autonombrada biggest white midget in the game.