EN BUSCA DEL SONIDO PERDIDO: At the End of Paths Taken, de Cowboy Junkies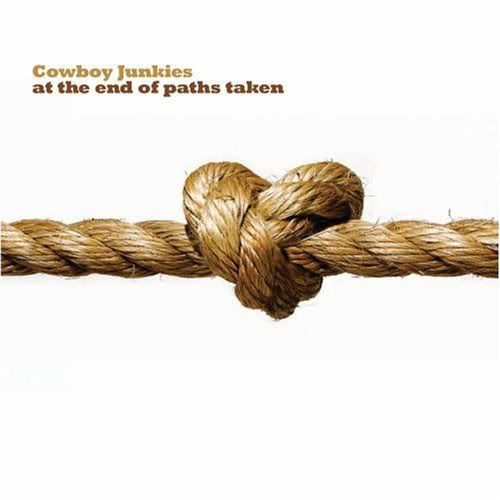 Cowboy Junkies
At the End of Paths Taken
Zoe Records
2007
¿Por qué es necesario un nuevo disco de
Cowboy Junkies
? Porque después de veinte años en la escena musical nadie esculpe canciones como estos canadienses. La voz de Margo Timmins (cómplice y presta al influjo de la guitarra de Michale Timmins) no se cansa de contar historias de las sombras en la madrugada (
Brand New World
) :
to lie in wait
as the shadows and the shapes
spill across the walls
like a river
deep
in spate.
4am.
Dark reality.
Brand new world
and my heart
is missing
Cowboy Junkies siempre han caminado en las tortuosas tonalidades nocturnas que parecen medir el tiempo y abruman en esos segundos eternos de las madrugadas solitarias
(Spiral Down
):
I've laid it out on paper,
instructions of what to do,
as my mind begins to waver,
losing contact with you

Una demoledora descarga de pausados arreglos de cuerdas que se toman su tiempo para entrar (como en el track
Brand New World
). He aquí la presencia de un sonido que ha madurado, con acústica reluciente que va directamente a la yugular porque se nutre de la desesperanza de lo efímero y siempre con una base de cuerdas.
Blue Eyed Saviour
puede ser una escalofriante hojarasca de otoño porque
Listen to my wide eyed bundle.
Listen to them assail the night.
Lost again in their caves of wonder,
leaving us alone outside.
And I can barely stand the simple pleasure,
each breath carrying just a little more weight.
As I bend to adjust the comforter
I think, "hope: the belief that loved ones will never die"
I've never heard such nonsense,
I've never heard such lies
Después de veinte años Cowboy Junkies siguen siendo reincidentes de las historias de despedida, de la cama tibia, de la búsqueda del Salvador (emocional, no espiritual), sobre las historias paternas que arrojan luz perenne (la canción
Follower 2
, es un destellante himno al padre a punto de estallarle el corazón, bellísima en verdad). Pocos discos logran sacudir con arpegios intimos y con una voz femenina curtida con ese mirar que lo abarca todo.
Porque al final de los caminos siempre hay crepúsculos que no se equivocan.
Brand New World
: Cowboys Junkies