EN BUSCA DEL SONIDO PERDIDO: Boxer de The National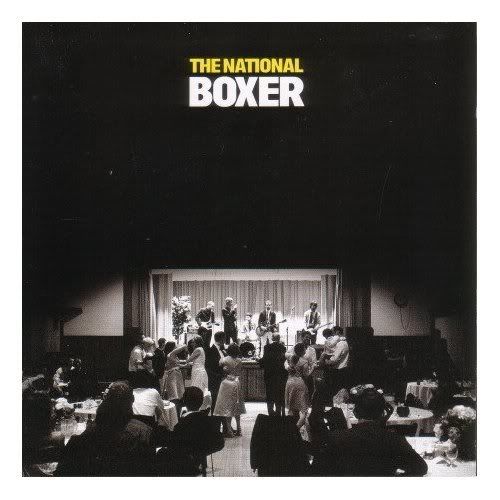 Boxer
The National
Beggars Banquet
2007
...un disco de aguda mirada sobre el polvo, sobre la refulgente desesperación, sobre la oscuridad que no daña, pero que oscila entre lo efímero y el filo de la pereza.
Después del ocaso de Interpol (
Turn on the Bright Lights
se quedará como uno de los debuts más extraordinarios de la década) que ha terminado es un aburrido segundo disco (
Antics
) y un autoplagio notable en el tercero (
Our Love to Admire
, 2007, en fila para ser reseñado algun día de estos por su servidor) sólo quedan las huellas.
Boxer
de
The National
es una revisión saludable sonido de
Joy Division
,
Wire
(especialmente el
opening track
Fake Empire
),
Sonic Youth
hasta
Interpol
. Pero recordar estas bandas no es ningunear el talento de
Matt Berninger
(letrista de The National) y compañia, ya que la letras de Matt Berninger son escenarios de abandono, decadencia glamourosa o cualquier confirmación del vacío abismal que se encuentra en cualquier calle de una inmensa ciudad, pero que arrebata con detalles cotidianos provocativos que sólo quedan en la memoria para que recordar que estamos, al final de cuenta, en agonía latente (
Brainy
):
I've been draggin around from the end of you coat for two weeks,
Everywhere you go is swirlin, everything you say has water under it,
You know I keep your fingerprints in a pink folder in the middle of my table
you're the tall kingdom I surround
think I better follow you around
Emociones que se amplifican hasta tener la certeza de:
Turn the light out say goodnight
no thinking for a little while
lets not try to figure out everything it wants
It's hard to keep track of you falling through the sky
we're half-awake in a fake empire
we're half-awake in a fake empire
Fake empire
(inmejorable
opening track
: una canción abrasiva/bautismal) abre un disco coherente en sus imágenes dispersas: espejo de un sonámbulo abocado al desastre.
The National
ha logrado conjugar influencias para elaborar un ámbito intermedio donde hay un calor, un perfume que espera casi póstumamente (
Green Gloves
)
Falling out of touch with all my
friends are somewhere getting wasted,
hope they're staying glued together,
I have arms for them.
Los cuarenta y tres minutos de este disco están llenos de intensidad en la guitarra (a cargo de Aaron y Bryce Dessner) para bañar un universo sombrío con misterio. Canciones/súplicas de cansancio/separación donde caben los temores más burdos (
Apartment Story
):
we're so disarming darling, everything we did believe
is diving diving diving diving off the balcony
Tired and wired we ruin too easy
sleep in our clothes and wait for winter to leave


Un disco maduro con un bagaje cotidiano desbordante de inclinaciones poéticas. Una sorpresa agradable.
En su sitio de myspace
podrán escuchar los dos primeros tracks (Fake Empire y Mistaken for Strangers) de este disco benigno.